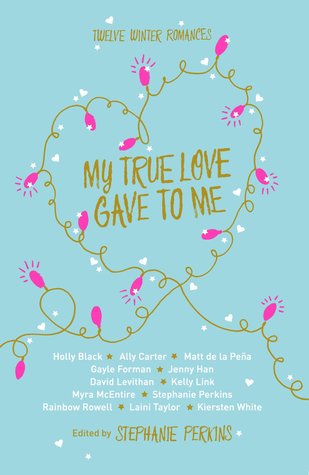 My True Love Gave To Me, edited by Stephanie Perkins
Published by Pan Macmillan
Goodreads Link
Rating 4.5*
Buy: The Book Depository | Hive
Rainbow Rowell – 'Midnights' – 4/5
This was a perfectly rounded, beautifully sweet story with that perfect amount of Rainbow Rowell charm. The story is set over a series of New Years Eves and two best friends, Noel and Mags, who have a series of near-misses each year. This was a story of friendship, taking chances and had an amazing happy ending that truly made me warm and fuzzy inside. But what I loved about this story in particular was Rainbow's writing and how she managed to cram in so much characterisation within such a short story. Brilliant.
Kelly Link – 'The Lady and the Fox' – 2.5/5
This story truly set off great. Miranda, our main character, visits family friends every Christmas as her mother is in jail in a Thai prison (though it was never explicitly said what for – which was very irritating!). Daniel, the son of her mother's friend, who she stays with a Christmas every year, is obviously in love with her and this story could easily have taken a safe route to go down with Daniel, but Kelly Link took a risk – one that I'm not sure paid off. Miranda visits the Honeywell household every Christmas and each year, she seems to encounter a ghost called Fenny. And so ensues a rather enigmatic, confusing, love/ghost story. There were lots of questions, but no answers, and unfortunately it wasn't Christmassy enough to make up for that fact! The beginning of the story did hook me initially, so for this one i'll be giving it 2.5 stars.
Matt de la Pena – 'Angels in the Snow' – 4/5 stars
Oh, I loved this one! It was funny, endearing and beautiful. It is centred on a boy called Shy, who is catsitting in New York over Christmas break. He can't go home to Mexico, where his family are enjoying Christmas, and he's low on food and money. A huge snowstorm is keeping him inside the apartment, when a neighbour from upstairs, Haley, comes knocking, asking to use the shower. And so continues a gradual love story about honesty, truth and being yourself. I loved Shy's character and Matt de la Pena's writing style, and this one really put me in the Christmas spirit.
Jenny Han – 'Polaris Is Where You'll Find Me' – 3/5
MAN! I wanted more. Who knew elves could be such a good basis for a story? Seriously though, that ended too abruptly and the end wasn't at all satisfying 😦 More of Natalie and Flynn please, Jenny Han!
Stephanie Perkins – 'It's A Yuletide Miracle, Charlie Brown' – 5/5
ALL THE FEEEELS. Stephanie Perkins, what is it that is so entrancing and moving about anything that you write? You made me fall in love with Marigold and North in the space of a few pages. PAGES. This was the most perfect of all the stories so far in this collection. It was sweet, uplifting, funny and adorable. And the most important question – where can I get a North of my own!?!
David Levithan – 'Your Temporary Santa' – 3.5/5
This was such a sweet story! Connor asks his boyfriend to dress up as Santa and come into his house on Christmas Eve night so that his eight year old brother will see what he thinks is Santa delivering presents. It was really sweet, but unfortunately there wasn't enough depth for me to give it anything but a 3.5 star rating. I feel like this would need to be a full length book. I adored the characters though!
Holly Black – 'Krampuslauf' – 4/5 stars
A refreshing fantasy/paranormal love story to mix things up a bit was exactly what I was needing – and Holly Black provided! Krampuslauf was pretty darn amazing. I LOVED the setting, the story, the characters. It was all so very clever and unique, and despite the many negative reviews about this story in particular, the story shone out as one of the best in the anthology for me. I think Holly's writing is incredible; so addictive and readable. I loved the personalities of all of the characters and when the story ended, I wanted more! Luckily, I have an ARC of THE DARKEST PART OF THE FOREST, Holly Black's new fairy YA novel, out next year. Otherwise, I would have gone a bit crazy over not having any of Holly Black's fairy world to read! Perfect story, and one that would make a great novel in my opinion.
Gayle Forman – 'What the Hell Have You Done, Sophie Roth?' – 5/5 stars
THIS STORY. Damn. I'm a mess of feels. This was SO SO ADORABLE. I was completely sucked into this beautiful short story, and completely fell in love with Sophie and Russell's love story. Sophie is in her first year of a college in the middle of nowhere – it's a small town, with students who are local. As a Jewish girl from New York, Sophie sticks out – but so does Russell, one of the few black students at the university. Initially, that's how they connect – they're both 'outsiders', both strangers – but it begins to go beyond that. Their humour is incredible, and this story wouldn't be the same without the hilarious one-liners and Russell's quick wit. I want a Russell of my own! Five stars for this sweet, perfect love story.
Myra McEntire – 'Beer Buckets and Baby Jesus' – 3/5
This story was perhaps one of the weakest of the collection – don't get me wrong, I enjoyed it, but the plot didn't really excite me or draw me in. The characters however? I loved them! Vaughn was so loveable and I loved how he was an unconventional protagonist – he hadn't that much going for him, and he was a troublemaker. To summarise, there's a nativity play gone wrong, a bad boy falling for the pastor's daughter, a Civil War re-enactment doublebooked and the worst snowstorm in history – it was a fun read, but not one of the best. It did however fill me with that Christmas spirit, so for that, I've given it three stars.
Kiersten White – 'Welcome to Christmas, CA' – 4/5
This story is set in a dot-on-the-map town called Christmas; so small that it doesn't even appear in a Google search. Maria wants to get out of Christmas as quickly as possible – she works in the Christmas Cafe that her mother manages, and the only wage she gets is her tips. She dislikes her stepdad, and how her mother is slowly drifting away from her. However, upon the arrival of the new, young, hot chef called Ben, all of this changes. Maria learns that appearances are not always what they seem – her stepfather has been rooting for her this whole time, and altogether her perspective of the town of Christmas changes, thanks to Ben. I really loved this story. It was as sweet as the delicious food that our love interest, Ben, cooked up. The descriptions of the food were incredible! I loved the humour, sweetness and festivity of this story, and the fact that it can only take a change of perspective to appreciate what you really have.
Ally Carter – Star of Bethlehem – 2/5
Arghhh. This story set off so great but then unfortunately went downhill! Lydia, our main character, is on her way to New York for Christmas, but at the airport, she sees a girl from Iceland, desperate to change her ticket and go to New York. On a whim, our main character decides to swap tickets with her – and then ends up impersonating Hulda in the middle of nowhere in Oklahoma, staying with Hulda's ex-boyfriend and his family. This story began to play into one of my favourite YA tropes – the fake!relationship trope, but from then on, it just got a bit muddled. Lydia attempts to play into her role as Hulda, the Icelandic girl at the airport, and ends up falling in love with Ethan, who's family ends up welcoming her in with open arms. We learn that Lydia is not what she appears to be – she's escaping from another life in New York, the life of fame and fortune. The big reveal of this was over-the-top dramatic, and unfortunately it really put me off the story. I didn't like the twist at all, and felt that the story brought in too much in such a short space of time. I did love how funny this story was – especially Lydia having to explain to Ethan's family all of the Icelandic Christmas traditions! Overall, a sweet story, but one that lacked shine for me.
Laini Taylor – The Girl That Woke The Dreamer – 5/5
AHHHHH. THIS STORY. YES LAINI TAYLOR! I'm a fantasy lover at heart, and when I found out that the final story in this anthology was a fantasy one, AND written by Laini Taylor, I think I may have squealed. How do I even explain the plot of this story? I can't. I won't be able to do it justice. There's our main character, Neve, a girl alone in the world, the world that is freshly inhabited by humans – the Isle of Feathers. There's a mythical god – or creature – who once inhabited the Isle, but the human invaders killed him and colonised the island – or so they thought. Every Christmas, for the twenty four days up until Christmas Eve, men court women by leaving them gifts on their porches. When Neve receives an old bible, she knows that it's Spear – the harsh Reverand who had a trail of dead wives before him. And Neve is to be the next. Upon seeing the bible upon her porch, she prays to Wisha – the Dreamer – to save her. And from then on, she receives the most special gifts from an unknown suitor. What Neve begins to realise is that she has woken the Dreamer – and he will fulfil his promise, and save her from her doomed fate. What unfolds is a beautiful, completely unconventional love story that will blow you away. Laini Taylor's writing is stunning. Whilst reading this, I wanted to wrap the words around me, they were that beautiful. The ending is triumphant and magical, and though Laini Taylor took a huge risk with this story, it paid off tenfold. She could have easily written a conventional Christmas romance, but no. She wrote a Christmas romance that none of us can relate to, but that we can all fall in love with. It was the perfect end to a fantastic anthology!
FAVOURITES OF THE COLLECTION:
1) The Girl Who Woke The Dreamer – Laini Taylor. Obviously!
2) It's A Yuletide Miracle, Charlie Brown – Stephanie Perkins. Written by the queen of YA romance, of course this would come up top!
3) What the Hell Have You Done, Sophie Roth? – Gayle Forman. Another queen of YA romance, this was a gorgeous story which filled me with Christmas cheer.
Collection Rating overall – 4.5 stars.